It was another action packed weekend of Bulls rugby!
Senior male leagues all kicked off this week with over 60 Bulls taking to the pitch, 148 points scored including 23 tries and 3 bonus point wins!
The 1XV welcomed GHK to Laigh Bent in the opening match of Tennent's National 2. The Bulls raced into a early lead but were pegged back by a strong GHK team. The Bulls had to dig deep and come from behind to win a thrilling match 40 - 36.
The 2XV also played host to GHK 2XV in Tennent's West Reserve 1 in what was another entertaining match. Both teams were evenly match for a long period of the 1st half before the Bulls pulled away winning the match 67 - 0. Our 3XV travelled to West of Scotland 2XV for the opening game of Tennent's West Reserve 2 running out 41 - 26 winners.
The U18's travelled to Perthshire for a development game.
On Sunday, our Ladies travelled to Biggar in the next round of Tennent's Women's West 1. More positive improvements were clear to see from our girls but Biggar proved to be too strong as they ran out 78 - 36 winners. The Ladies are improving every week and it will only be a matter of time before they get a W.
Mitsubishi Shogun Conference action returned for our Youth teams. It was a tough day as all of our youth sides were on the other side of the result against Perthshire. The U16 & U15 travelled up to Perth losing 60 - 12 and 73 - 34. The U14 and U13 welcomed Perthshire to Hamilton losing 36 - 6 and 11 - 9.
Tennent's National League 2: Hamilton Bulls 40 - 36 GHK
Tennent's West Reserve League 1: Hamilton 2XV 67 - 0 GHK 2XV
Tennent's West Reserve League 2: West of Scotland 2XV 26 - 41 Hamilton 3XV
Tennent's Women's West League 1: Biggar 78 - 36 Hamilton Ladies
Mitsubishi Shogun Conference: Perthshire U16 60 - 12 Hamilton U16
Mitsubishi Shogun Conference: Perthshire U15 73 - 34 Hamilton U15
Mitsubishi Shogun Conference: Hamilton U14 6 - 36 Perthshire U14
Mitsubishi Shogun Conference: Hamilton U13 9 - 11 Perthshire U13

Match details and reports can be found by clicking the buttons below:

Hamilton 1XV Joint Bulls of the Match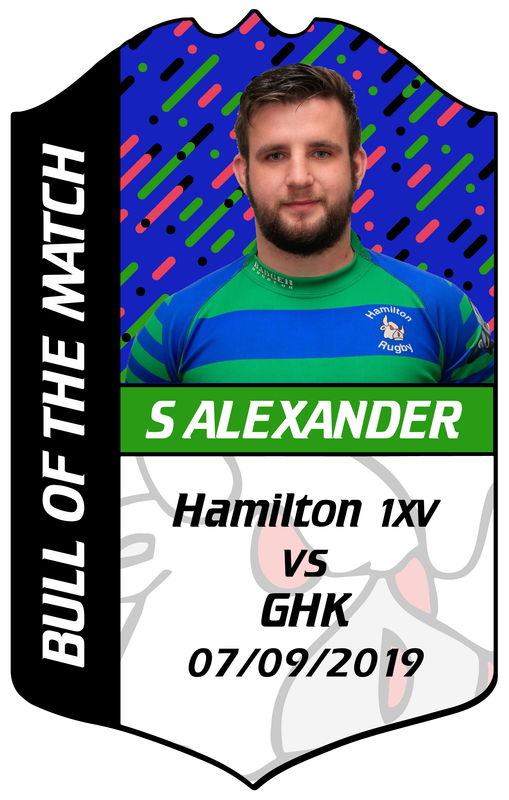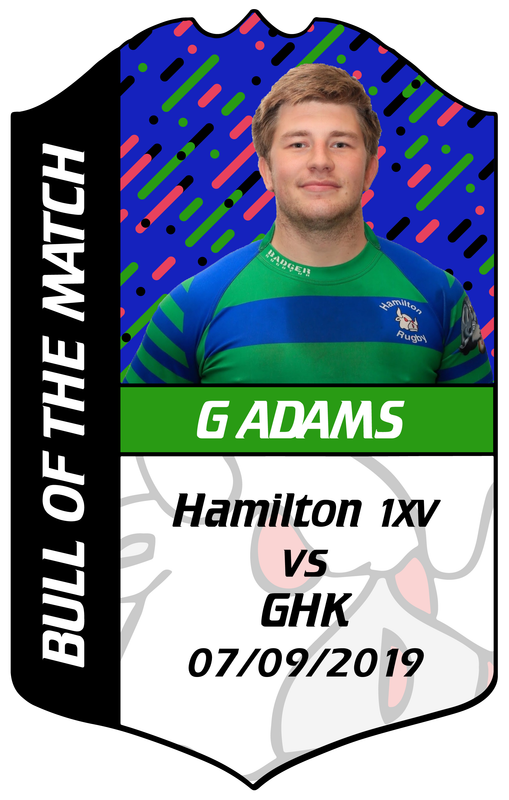 Scott Alexander & Gary Adams
1XV scorers

| | |
| --- | --- |
| Tries: | S Turnbull (2), R Inglis (2), C Skilling, G Adams |
| Conversions: | O McLeish (5) |
Hamilton 2XV Bull of the Match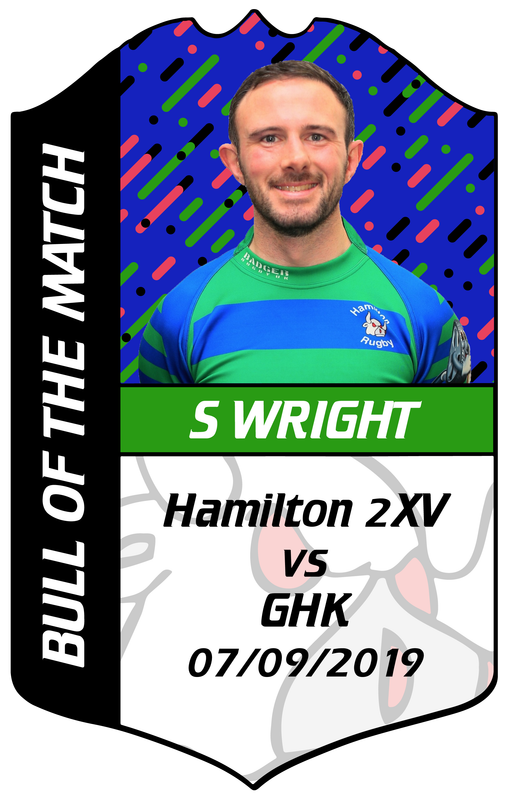 Stephen Wright
2XV scorers

| | |
| --- | --- |
| Tries: | C Craig, C Robertson (2), B Plant, D Aitken (2), E Whelan, R McKellar, A Sinclair (3) |
| Conversions: | R MacDonald (3), A Sinclair (2), C Robertson |
Hamilton 3XV Bull of the Match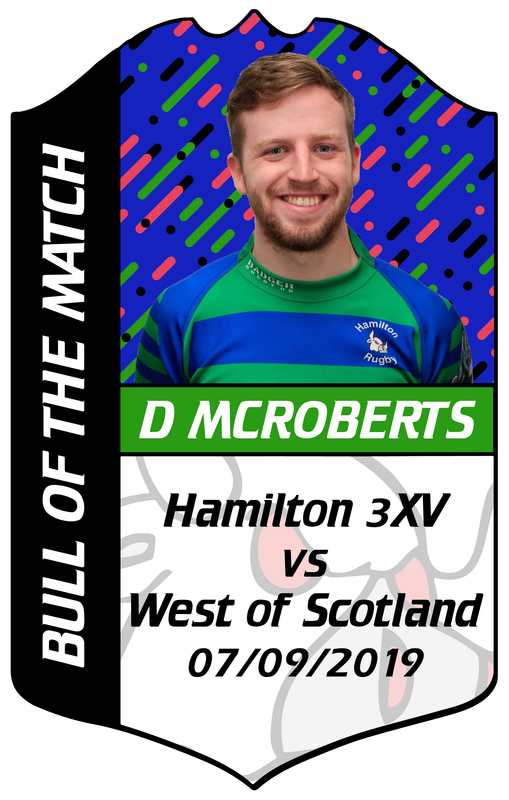 Daniel McRoberts
3XV scorers

| | |
| --- | --- |
| Tries: | R Bryan, B Sutherland, J McCleary, D McRoberts (3) |
| Conversions: | R Bryan (4) |
| Penalties: | R Bryan |
Hamilton Ladies 1XV Bull of the Match
Haley MacKay
Ladies scorers

| | |
| --- | --- |
| Tries: | L Snaddon (2), S Speirs, S Ferguson-Ward, E Acheson, L Houston |
| Conversions: | L Snaddon (2), C McWhirter (2) |
Hamilton Bulls next fixtures
(Saturday 14th September)
1XV - Away vs Newton Stewart
2XV - Away vs Ayr/Millbrae
3XV - Away vs Lenzie
U18 - Home vs West of Scotland
(Sunday 15th September)
Ladies - Home vs Wigtownshire
U16 - Home vs West of Scotland
U15 - Home vs West of Scotland
U14 - Away vs West of Scotland
U13 - Away vs West of Scotland