Scotland U18 Head Coach, Ross Miller, has named a 26-man squad to travel down to England for the U18 Six Nations Festival and we are delighted to announce Hamilton's own Jordan Craig has made the squad.
The squad will face Italy in their opening match this Saturday (13 April), before going up against Wales (Wednesday 17 April) and Ireland (Sunday 21 April).
The festival, which is being hosted by England Rugby at Hartpury University and College, will see three sets of fixtures at Gillman's Ground, Sixways Stadium and Kingsholm.
Miller said: "Preparation has gone very well, the squad are in a good place and very much looking forward to the festival.
"The squad are excited to face new challenges and will be looking for further opportunity to progress their development."
The U18 Six Nations Festival matches will also all be broadcasted live on FreeSports.
Well done Jordan!
#BullsFamily
Scotland U18 Six Nations Festival Squad (April 13 - 21)
Forwards
Ben Mace (Stirling County)
Jamie Drummond (Marr)
Scott Clelland (Ayr)*
James Johnstone (Preston Lodge / Preston Lodge High School)*
Cole Lamberton (The Royal High School)
Dan Gamble (Merchiston Castle School)*
Alex Samuel (Madras / St Leonards)*
Jamie Campbell (Kelvinside Academy)
Struan Whittaker (Edinburgh Accies)*
Gregor Brown (Robert Gordon's College)*
Josh King (Queen Victoria School / Stirling County)*
Rory Jackson (Kelvinside Academy)*
Ben Muncaster (Rugby School / Leicester Tigers)
Harri Morris (George Watson's College)
Backs
Jamie Dobie (Merchiston Castle School)*
Cameron Scott (Preston Lodge)*
Joseph Strain (Dumfries Saints)
Alex Harley (George Watson's College)
Scott King (Heriot's)*
Matthew Currie (Merchiston Castle School)*
Tom Jones (Bristol Bears / SGS Filton)
Finlay Callaghan (GHK)
Nathan Sweeney (Loretto School)*
Harry Paterson (Fettes College)
Cameron Furley (Saracens Academy / St Albans School)
Jordan Craig (Hamilton Bulls)
*Fosroc Academy supported player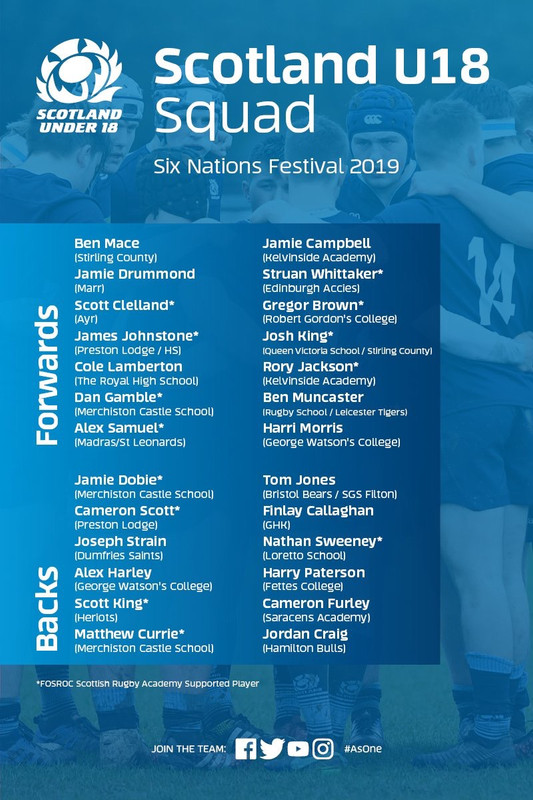 2019 Under 18 Six Nations Festival - live on Freesports
Saturday 13 April, Gillman's Ground, Gloucester (kick-off 5.10pm)
Scotland v Italy
Wednesday 17 April, Sixways Stadium, Worcester (kick-off 4.10pm)
Scotland v Wales
Sunday 21 April, Kingsholm Stadium, Gloucester (kick-off 11.10am)
Scotland v Ireland

Updated 21:18 - 11 Apr 2019 by Anthonie Malley