The Tartan Touch initiative launched last summer by the SRU has been a brilliant innovation for many reasons. It's not that touch rugby is new - we all played it as part of training, we all played it as rugby players, and there has been competitive touch tournament around Scotland for years. No. What makes this brand of touch rugby so special is the lack of winning mentality competition, the focus on fun - genuine social rugby for EVERYONE. And yet the joy on the faces of try scorers is still the attraction of the game, yet nobody can tell you the score at the end of each match… Nobody cares!
My own motivation to get involved in the organisation, was the thought that at 68, I might be able to play alongside my rugby mad, 13 year old grandson, and display some of the silky skills of yore, all be it in super slow mo! And by God it was great. The game is genuinely for all. A couple of weeks ago we had a family of four - mum, dad and two daughters - turn up. "Never played before" they said; " a bit nervous - might make a fool of ourselves". As they left mum commented, "Never had so much fun as a family as tonight". I think that says it all.
We average around 50 players per week, on three pitches. We've got a mix of participants: complete novices whose skill levels have quickly risen, to youngsters developing their talents; there's rugby retirees of various ages, looking to relive past glories, and feed that competitive urge; there's senior players keeping their edge over the summer break; there's mums and dads with their children... and all enjoying the self policed games, the camaraderie, and the responsibility of looking after the pitches, the equipment, and each other.
Our session leader, Gordon (Gopher) Lindsay, keeps the music going and the teams rotating so that the evening flies so fast there is genuine disappointment when it ends, after about an hour and a half of great exercise, and great fun. We finish this year on 1 August and already we're looking forward to next summer.
So it's a genuine thanks to Scottish Rugby (David Edge and Chris Pacey) for their support and the supply of equipment; to our ambassador team who work to welcome all comers and arrange the facility; to our club steward for his wonderful after match food; but most of all, to all the participants who have contributed so much to a fantastic series.
Check out the latest issue of Scrum Magazine here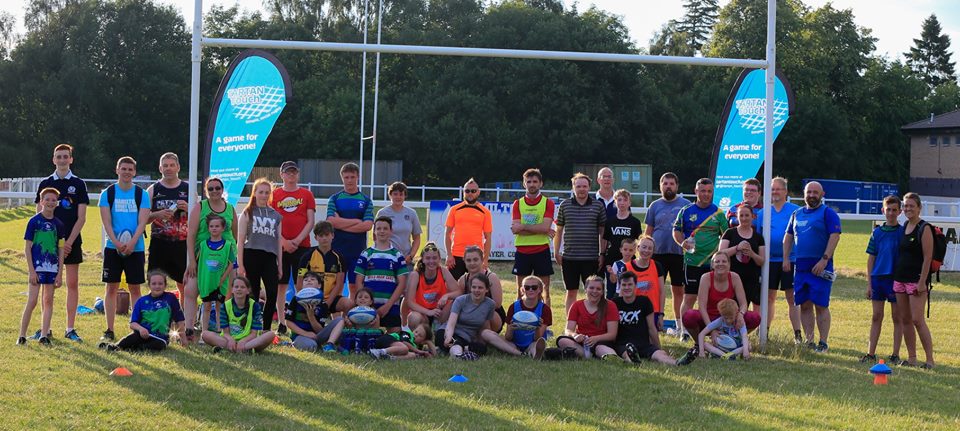 Updated 18:19 - 7 Aug 2018 by Anthonie Malley